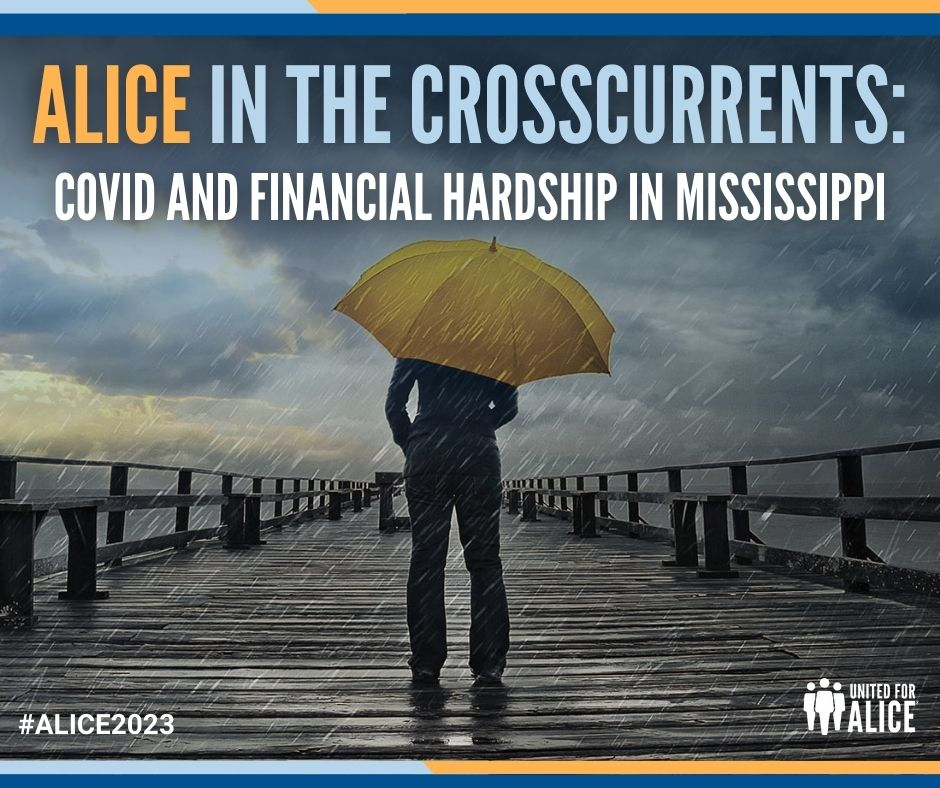 ALICE IN THE CROSSCURRENTS: COVID AND FINANCIAL HARDSHIP IN MISSISSIPPI (2023)
ALICE stands for Asset Limited, Income Constrained, Employed. ALICE households earn above the Federal Poverty Level (FPL) but not enough to afford the basics in the communities where they live. Importantly, despite struggling to make ends meet, ALICE households often do not qualify for public assistance. The number of households in financial hardship in the U.S. continues to be undercounted in official measures.
According to the FPL, 13% of households in the U.S. — 16 million — lived in poverty in 2021. Yet United For ALICE data shows that another 29%, or 36 million households — almost three times as many — were ALICE. In total, 52 million households in the U.S, or 41%, were below the ALICE Threshold (poverty + ALICE) in 2021.
Click here for the Frequently Asked Questions for the 2023 ALICE Reports or visit https://unitedforalice.org/
Also. You can access the Virtual Website Tour video. It provides an overview of where you can find local data, and the many tools and resources on the UFA website.
SHARE YOUR ALICE STORY
Be Heard
Are you struggling to make ends meet? Do you live paycheck to paycheck? Please share your story with us.
At United For ALICE, we work to lift the voices of individuals and families whose income exceeds poverty guidelines but falls short of affording the basics.
Please visit: https://alicevoices.org/

54.4%
Mississippi workers that made less than $15/hr in 2019
43%
Households across Hinds, Madison, and Rankin counties living below the ALICE threshold
$31.8 billion
Potential economic growth by bringing all Mississippi households to the ALICE threshold
Mississippi ALICE Household Survival Budgets